Thanh Do University is ranked 19th among the top private universities in Asean +2023 (AppliedHE). The school meets the national educational quality standards; achieved three stars for the quality of application-oriented training in the ASEAN University Rankings (UPM).
From 2008 until now, Thanh Do University has become a familiar and reliable place for motorcycle and car driving training.
From 2023, Thanh Do University is licensed to train and issue certificates in the field of Pharmacy and Tourism.
Below are detailed information about the types of short-term certificates currently being trained and issued at Thanh Do University:
The Thanh Do Driver Training Center is a subsidiary of Thadotek, which is owned by Thanh Do Trade Investment and Development Co., Ltd. It was founded in 2008 and is situated within the Thanh Do Education Ecosystem, specifically in the Thanh Do Education Village. The center offers comprehensive driver training services, covering classes A1 to C. Additionally, it organizes specialized training programs and provides supplementary steering wheel instruction for individuals requiring assistance. Annually, thousands of students enroll in driving lessons at this esteemed institution.
The training center has a spacious area of around 6,000m2, providing enough room for students to practice all lessons. It meets the prescribed standards for A1 motorcycle and car driving training grounds. Regular motorcycle classes are held monthly, while automobile classes (B1.1, B2, C) are continuously available based on traffic licensing. The training center includes model roads and a parking lot for learners to practice. Students registering in Chengdu don't have to worry about limited training ground space.
With a large scale, professionally designed, the yard meets the same standards as the real driving test field. On the test field, there will be CCTV cameras and sensors right on the driveway. The yard is designed flat, the facilities are fully invested and modern. Thus, each person will experience the best practice lessons at the Chengdu training ground.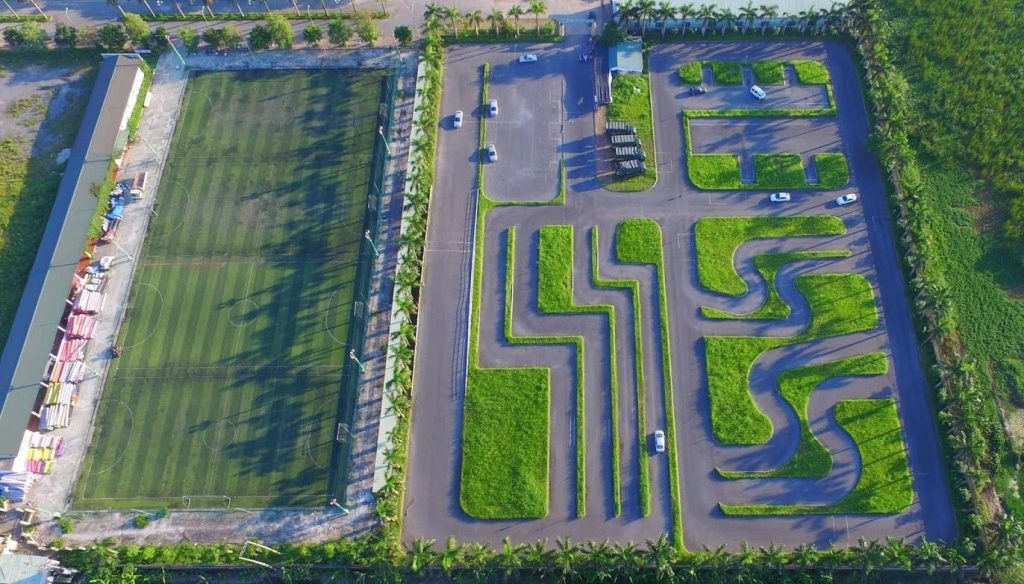 With a large and diverse number of vehicles, students can choose the type of vehicle as required. Vehicles for practice are checked and maintained periodically. Most of them are new cars, so the engines are strong and have good visibility. Students will often learn to drive with a B2 driver's license in Hanoi or other classes such as B1, C on cars on popular vehicles as suggested by their instructors.
Driving instructors at Thadotek are experienced, dedicated and caring people. In particular, the Thanh Do driving practice ground has become the preferred choice of many students, especially students at Chengdu University. The training center is fully equipped with all the necessary equipment as required by the Department of Transport for the driving training ground. This means that students at Thanh Do University won't have any difficulty finding a driving school since there is a conveniently located Driver Training Center right on campus.
Contact Info:
THANH DO INVESTMENT TRADE AND DEVELOPMENT CO., LTD
Hotline: 0948 006 006
Fanpage: Thanh Do driver training
Providing pharmaceutical expertise
As per the Ministry of Health's regulations on pharmacy practice certificates, pharmacists are required to undergo a training program to update their professional knowledge in pharmacy within three years from the date of receiving the pharmacy practice certificate or from the date of the most recent certification of completion of the training program. Failure to do so will result in the revocation of the pharmacy practice certificate.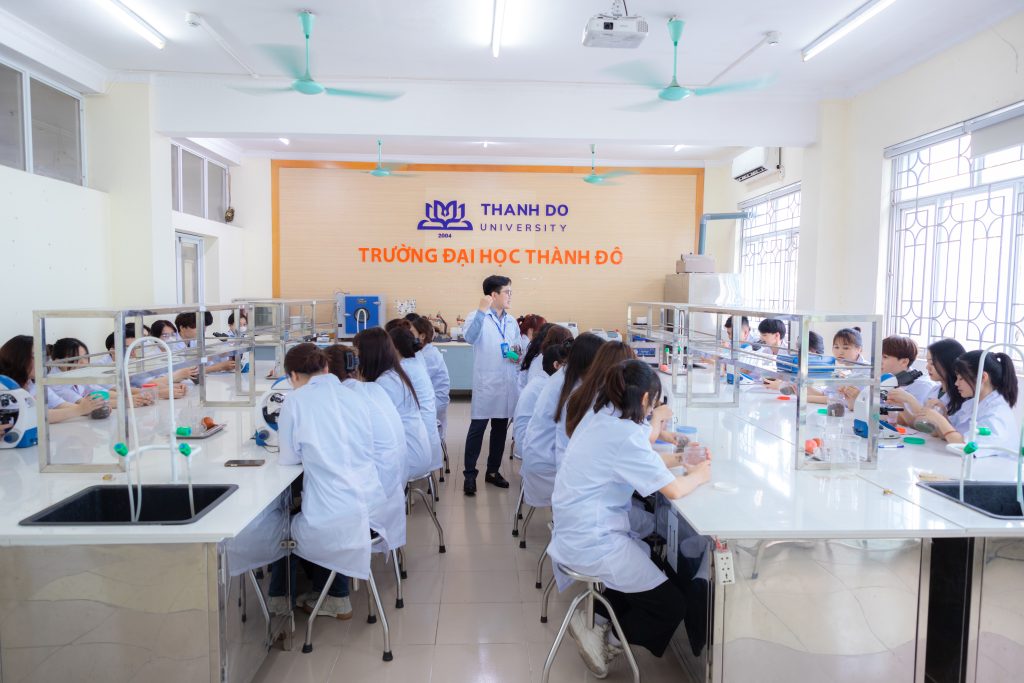 In order to meet the learning needs and comply with the regulations of the state, Thanh Do University announces the enrollment of the training classes "Providing professional knowledge in pharmacy" for individuals practicing pharmacy.
After completing the course, students are granted a "Certificate of completion of the training program to update professional knowledge in Pharmacy"
The exams will be updated on the Website/ Fanpage of Thanh Do University.
Contact details at:
Training Department – Thanh Do University
Km15 – Highway 32 – Kim Chung – Hoai Duc – Hanoi
Phone: 02433861764 – Ext 102 or 0389286408 (MSc. Bui Duc Thinh)
Fanpage: Thanh Do University
Thanh Do University has received official authorization from the National Administration of Tourism (under license No. 373/TCDL-LH) to conduct examinations and grant certificates for professional tour guidance to both domestic and international tourists. Students studying Vietnam Studies, Hospitality Management, and English at Thanh Do University have the opportunity to take the exam and obtain a professional qualification certificate as domestic or international tour guides right at their school. This can be done on the same day without the need for additional studies. The Tourist Guide Certificate enables students to apply for a Tourist Guide card, thereby becoming eligible to work as tour guides.
For graduates from other majors at Chengdu University or other educational institutions who aspire to obtain a Certificate of Professionalism in Domestic/International Tour Guiding, there is an opportunity to enroll in a brief online course and attend an exam preparation class. After completing these requirements, they can take the exam organized by the University and receive the desired certificate.
The exams will be updated on the Website/ Fanpage of Thanh Do University.
Contact details:
Address: Training Department, Building A, Chengdu University, Km15, Highway 32, Kim Chung, Hoai Duc, Hanoi
Tel: 024 33861764 (ext. 102) or 0325099636
Fanpage: Thanh Do University