On the morning of July 26, 2023, a Signing Ceremony for Collaboration took place at the Rose Hall between Thanh Do University and P&N Trading and Manufacturing Limited Liability Company, opening up numerous internship and practical opportunities for students majoring in Automotive Engineering. The collaborative program aims to create a favorable practical environment for students to study, intern, and work by strengthening cooperative training activities with companies and enterprises.
For students in the Automotive Engineering field, the experience of hands-on learning, direct exposure to the practical environment of companies or workshops, is essential. At Thanh Do University, alongside being equipped with foundational theory, students participate in specialized hands-on workshops. Moreover, the business-oriented semester and internship period account for approximately 40% of the total study time. The experience gained from practical exposure not only helps students apply knowledge and learn new skills but also instills motivation, confidence, and enhances their professional competence.
Participating in the program from Thanh Do University were Assoc. Prof. Dr. Dao Thi Ai Thi – Vice Rector; Dr. Pham Trong Phuoc – Head of the Automotive Engineering Department. Representing P&N company, Director Pham Thi Nga along with other representatives attended the signing ceremony based on the previous working session. Notably, the program also saw the participation of students majoring in Automotive Engineering. Thanh Do University is committed to expanding its network of partners, including domestic and international enterprises, in order to create internship and practical opportunities for students, ensuring their readiness to meet the demands of the job market.
Chairing the working session, Assoc. Prof. Dr. Dao Thi Ai Thi emphasized the collaborative relationship between the two parties and pointed out directions that could be implemented in coordinated training efforts, focusing on effectiveness and practicality, particularly in establishing a practical and internship environment for Automotive Engineering students, aligned with development objectives and innovative trends.
During the signing event, various detailed contents were discussed and exchanged, encompassing the development of internship programs, the reception of Automotive Engineering students from Thanh Do University to production facilities, and the creation of favorable conditions for students to come for learning and practicing combined with production-related activities in fields such as Electrical Engineering, Electronics, Automation, Mechanical Engineering, and Automotive Technology during the business-oriented semester.
From P&N Company's perspective, Ms. Pham Thi Nga shared her opinions to guide cooperation and focus on leveraging the strengths in the bilateral relationship, creating opportunities for Thanh Do University students, especially those majoring in Automotive Engineering, to intern at various locations during the business-oriented semester. She also highlighted the potential job opportunities at companies and factories after graduation. She specifically elaborated on the upcoming business-oriented semester program set for August, where Automotive Engineering students will intern at YAZAKI Company in Hai Phong. YAZAKI operates three facilities in the Northern region, specializing in technical, electrical, electronic, and automotive component manufacturing. During this internship period, students will have the chance to explore and learn about the plant's scale, production processes, and enhance their professional skills through practical working environments. The company also expressed their hope that this internship will mark the beginning of a strategic collaboration in education and employment outcomes for the students. 
Mr. Phuoc emphasized the significance of the internship period, as well as the necessary notes and preparations for an effective internship.
Internship is a period that allows students to assess their knowledge and skills, apply theory into practice, enhance confidence, accumulate practical experience, and contribute to making their CV stand out upon graduation. Furthermore, it's also a time for exploration, experiencing the profession, and expanding connections that help in understanding and directing one's specific field of interest in line with personal preferences, abilities, and goals.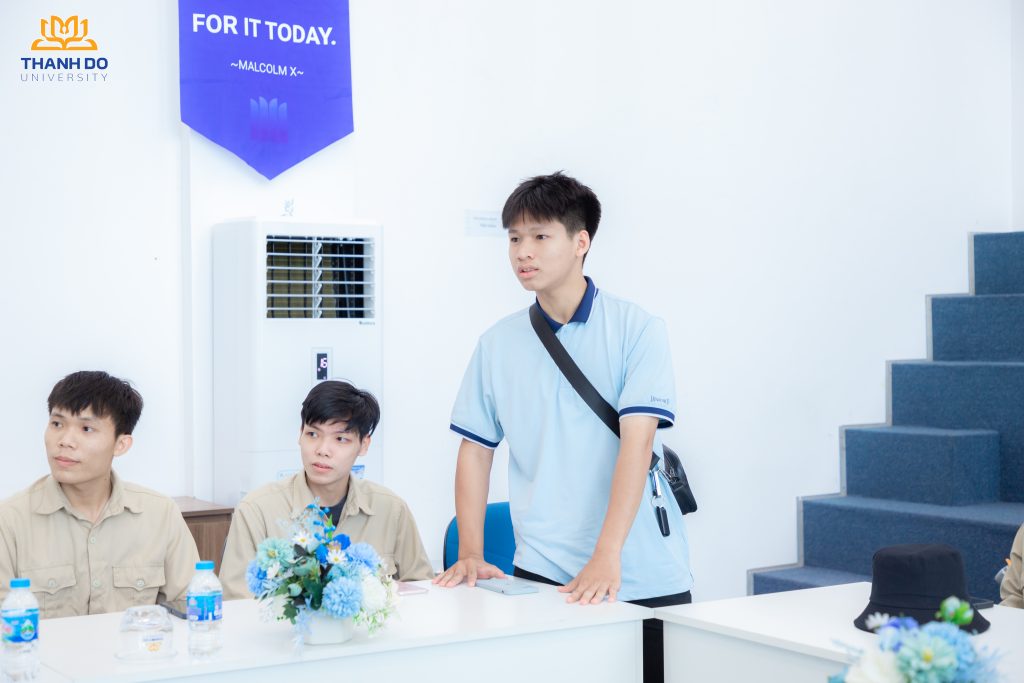 Participating in the roles of "Apprentice Automotive Engineers" – working at the company for a duration of 4 months – for each student, this period will be different from classroom learning, but it serves as a necessary preparation and a starting point for their future career journey. Many questions from the students regarding working hours, accommodation, transportation, attire, and related procedures were addressed in detail by the teachers during the Signing Ceremony.
With a commitment to providing high-quality human resources through education, Thanh Do University continues to enhance a learning model that emphasizes application, bridging theory with practice, and the development of deep and wide practical working abilities. Constantly expanding practical and internship opportunities for students across various departments and majors, Thanh Do University prioritizes collaboration with organizations and enterprises to jointly organize training and develop internship programs, promoting practical application and post-graduation employment opportunities.