On the morning of February 15, 2023, at Rose Hall, a working session between Thanh Do University and Kyungdong University in Korea took place on joint training cooperation.
Attending the meeting, on the side of Thanh Do University, were Dr. Nguyen Thuy Van, Vice Rector of the school, and leaders of Departments, and Centers of the University. On the side of Kyungdong University, there were Mr. Chun Sung Yong, the Rector of the University, and Mr. Lee Byung Joon – Director of Nurigio Vietnam, and admission representatives of Kyungdong University Korea.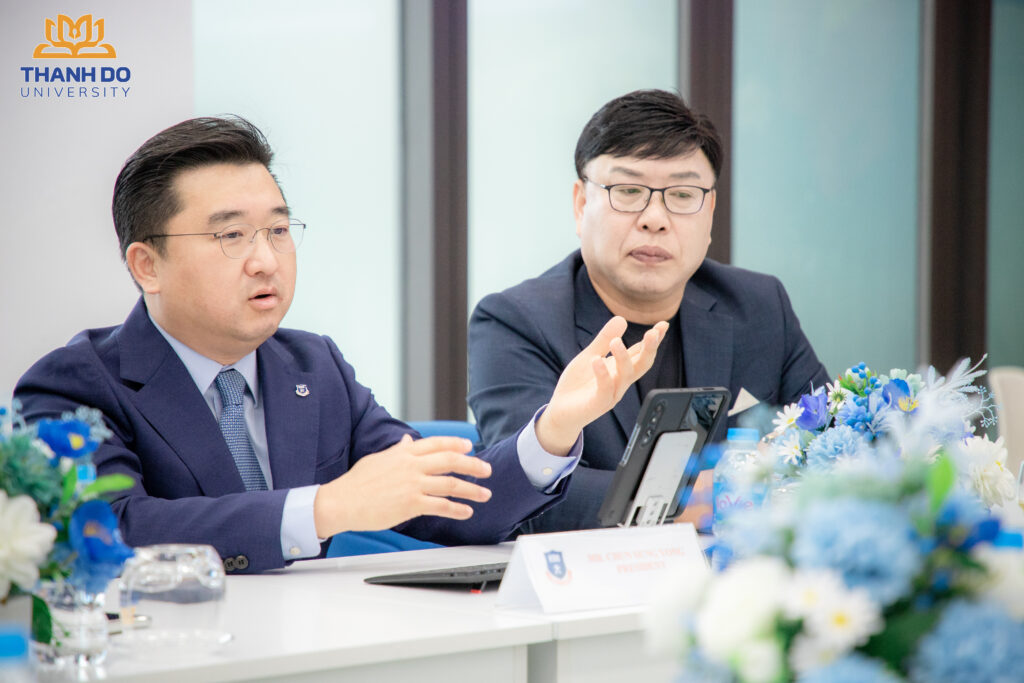 During the meeting, Dr. Nguyen Thuy Van – Vice Rector of the University introduced the basic features of Thanh Do University and expressed a desire that the signing of a cooperation agreement with Kyungdong University would be towards the long-term goal of creating conditions for students to study, exchange, and expand cooperation in many fields and fields.
Speaking at the meeting, Mr. Chun Sung Yong – the Principal of the school introduced the potential for cooperation between the two parties. Kyungdong University – Korea was established in 1981, with more than 8000 students, is one of the leading universities training experts at home and abroad, and currently has academic and educational cooperation with many Universities in Vietnam.
According to the content of the signed agreement, the two sides move towards long-term cooperation in training several strong and similar disciplines, and professions suitable for learners' abilities and aspirations, creating favorable conditions for student exchange. Besides, supporting issues related to curricula, academic exchanges, activities of foreign language centers, and supporting the establishment of the branch of Kyungdong University Hanoi.
Both sides believe that the signed cooperation will be a good start for the development of the training field; at the same time, commits to actively promoting activities to make the provisions of the memorandum of understanding effective, coherent, and sustainable. The school hopes that this meeting will open up a new development direction, allowing its students to expand their expertise and skills, add useful experiences, and get a job right after graduation.
The success of the signing ceremony helps Thanh Do University expand its "map" of international partners. With the goodwill of cooperation, the connection between Thanh Do University and Kyungdong University promises to create many positive results, contributing to strengthening diplomatic relations on the educational network of the two countries.