On April 27, 2023, Thanh Do University held a Talk show between teachers in the Rector Board, deputy heads of functional departments, specialized faculties, and First-year students.
Talkshow between students and the school's leaders is an opportunity for students to express their thoughts, aspirations, and desires in the process of studying and practicing at the university. This is also an opportunity for the University to listen to suggestions and answer students' questions, providing more information about the policies and orientations of innovation and development of the University.
The Talk show featured teachers from the School's Board of Directors, Deputy Heads of functional departments, and lecturers from specialized faculties. Dr. Nguyen Thuy Van, the Vice Rector, skillfully moderated the discussion, creating an atmosphere conducive to open and effective communication. This event proved to be a significant platform for participants to actively engage in meaningful conversations and provide insightful feedback.
Diving straight into the dialogue, numerous questions and concerns raised by students in the hall were addressed and resolved, fostering a vibrant atmosphere of open and fruitful exchange.
To facilitate positive transformations, as emphasized by the Organizing Committee, it is crucial for both parties to actively contribute: students need to courageously raise issues for resolution and put forth suggestions and ideas, while school leaders should attentively listen and devise appropriate solutions. Students play a pivotal role in assessing and enhancing the educational standards of the University. It is the amicable and open interaction between teachers and students that will serve as a pivotal factor in constructing a more interconnected and progressive Thanh Do University.
Before the commencement of the program, questions about each topic were submitted to the Organizing Committee through an online form. Throughout the Dialogue, students fearlessly raised issues and put forth suggestions, expressing their opinions directly and actively addressing matters of personal concern. Concurrently, the University's leaders energetically responded to the concerns and questions raised during the Talk show, providing guidance and presenting viable solutions.
In addition to engaging in direct communication with teachers on the Board of Directors, students also have the opportunity to send their questions to representatives from various departments and specialized faculties. This enables them to seek insights and guidance from a wider range of individuals within the academic community.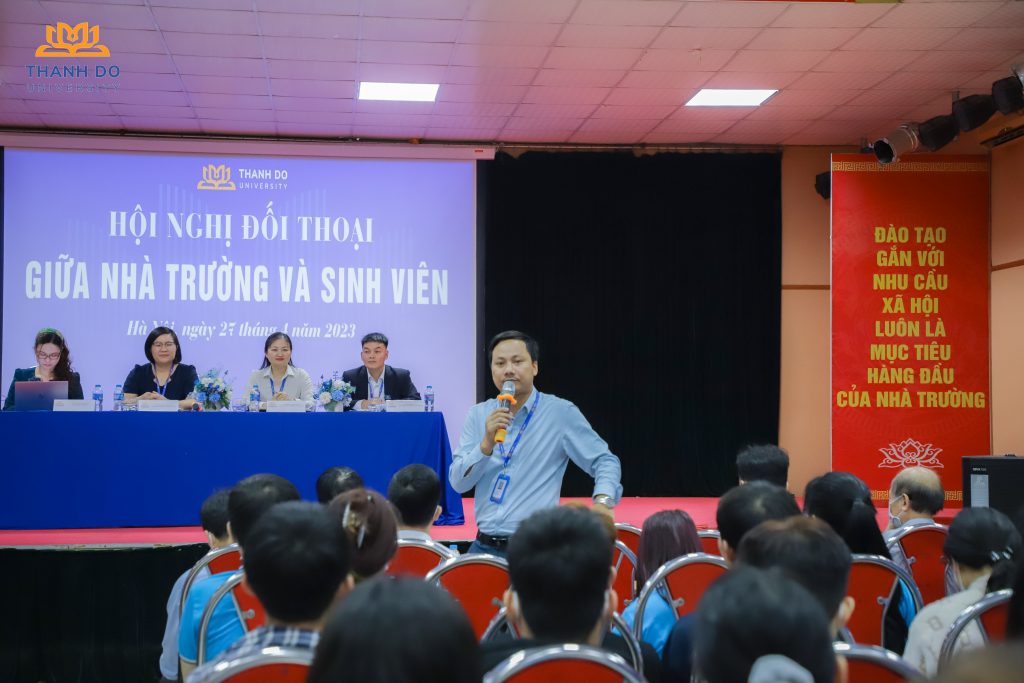 Representatives of the Departments include the Training Department, Student Affairs and International Cooperation Department, Youth Union, and teachers from the Faculty of IT, Faculty of Automotive Technology, Faculty of Economics – Law, Faculty of Basic Science, Faculty of Tourism and Foreign Languages, Faculty of Pharmacy…
The implementation of this innovative organizational method has proven to be highly meaningful. Dr. Nguyen Thuy Van, the Vice Principal of the School, offers in-depth responses to each problem, exploring its root causes, and proposing viable solutions. This exemplifies the University's leaders' strong resolve to address students' opinions in the swiftest and most efficacious manner, underscoring their unwavering commitment to meeting student needs.
M.A Hoang Thi Thu Ha, Deputy Head of the Training Department, provides insightful answers concerning training activities. M.A Quach Cong Giang, Secretary of the Executive Committee of the Youth Union and Acting Director of the Center for Admissions and International Relations, offers a clear analysis of the issues surrounding participation in extracurricular activities and Youth Union activities. Furthermore, M.A Do Dinh Sang, Deputy Head of the Student Affairs and External Cooperation Department, addresses inquiries regarding internships, startups, and employment opportunities for students.
Throughout the two-hour exchange, both students and University leaders devoted their attention to various crucial topics, encompassing training activities, extracurricular engagements, learner-oriented initiatives, student startups, employment prospects, facilities, scholarships, tuition fees, union and association initiatives, as well as other vital student support services.
Among these topics, three notable areas of interest for First-year students are internship programs, class schedule arrangements, and student activities. The University has identified these as key concerns and will prioritize resolving related issues in 2023.
To maintain the essence of dialogue, it is crucial that our commitment to it extends beyond a single day or a month leading up to the program. Communication should persist throughout, running in parallel. As old issues find resolution, new ones emerge, highlighting the need for genuine viewpoints and constructive criticism from every student. The school aspires for each student to embody the role of an ambassador, carrying and disseminating the spirit of dialogue among all their peers. Similarly, it is imperative that each unit's teacher actively and accurately communicates the university's policies to the students, serving as an effective channel for open comunication.
During her speech at the Talk show, Assoc. Dao Thi Ai Thi highlighted the significance of fostering students' skills through training sessions and seminars. She emphasized the importance of organizing an annual dialogue conference between the University and the students to actively engage with their ideas, suggestions, contributions, and recommendations regarding all aspects of the University's activities related to students. This dialogue serves as a means to understand their perspectives, aspirations, and promptly address any challenges they face in their learning and training journeys. Ultimately, this collaborative approach aims to enhance the overall quality of teaching, training, and student services provided by the University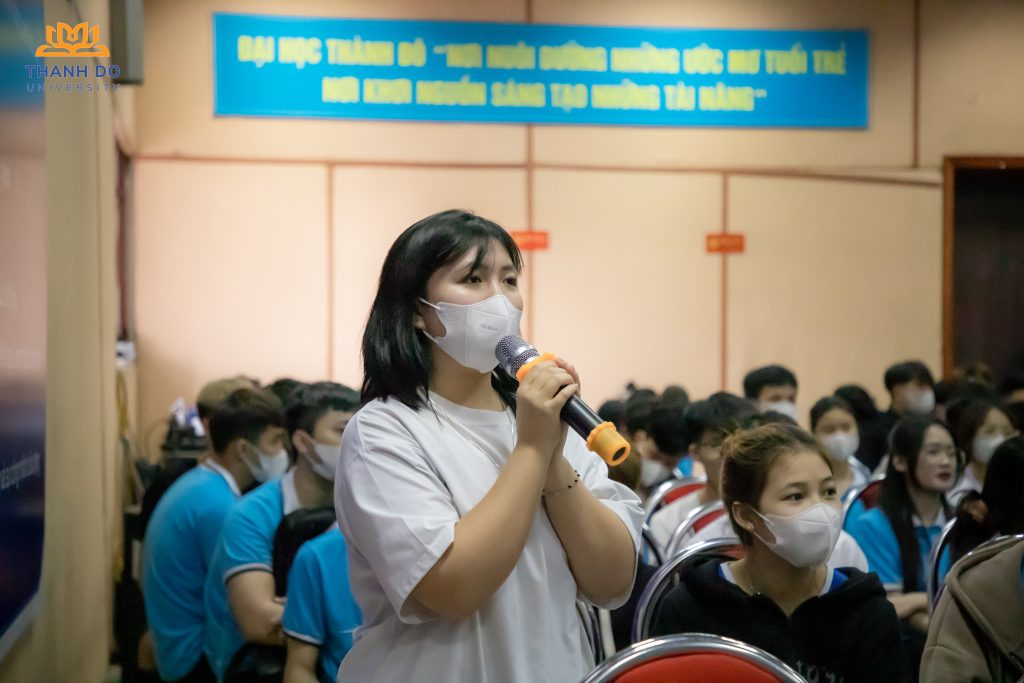 In summary, Vice Rector Dr. Nguyen Thuy Van expressed gratitude and appreciation for the students' candid and open sharing of their concerns regarding their studies and training at the school. The school highly values the students' suggestions and contributions and commits to making essential adjustments. These adjustments will focus on enhancing student support, upgrading facilities and equipment, streamlining administrative procedures, and improving the effectiveness of training, scientific research, and collective activities. With the motto of "taking learners as the center," the school aims to strengthen support, care, and provide maximum companionship to all students throughout their four-year study journey at the institution.
In the upcoming period, Thanh Do University eagerly anticipates receiving the sharing and understanding from its students, hoping that they will have joyful and successful learning days together. The University aims to spread its brand and human values. The success and growth of the students are the pride of the University.
Driven by the commitment to establish a modern and student-friendly educational environment, the school will persistently prioritize student input and actively listen to their suggestions. The institution will continue conducting in-depth research and addressing any lingering issues to create favorable conditions for students. The aim is to provide the best possible learning environment, while also encouraging students to utilize the official channels of the University for exchanging information and reflecting on their experiences. This ensures timely support and assistance when needed.