On the afternoon of October 10, 2019, Thanh Do University received and worked with Japanese Fintech Company. On behalf of Thanh Do University, there were Assoc.Prof.Dr. Tran Dang Bo – Head of Science, Technology & International Cooperation Department; Ths. Pham Trong Phuoc – Dean of Faculty of Automotive Technology and all students of Faculty of Automotive Technology; The Fintech side includes the following representatives: Mr. Sasaki – Director of Jecto Sutoroku Automobile Company; Mr. Horizoe – Technical Head of Japan Fintech Centre.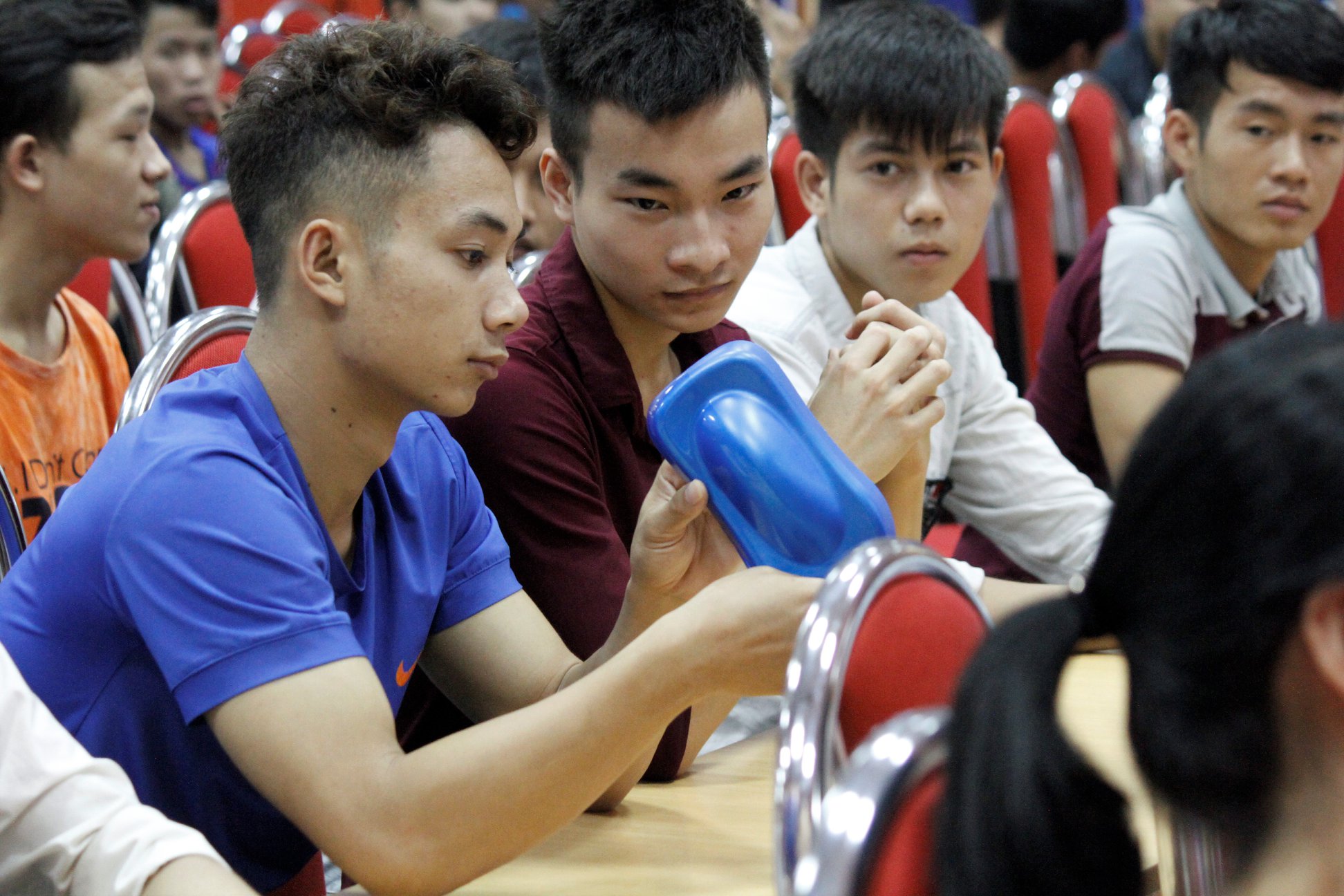 Photo: Students learn about Japanese paint technology
At the meeting, the students of the Faculty of Automotive Technology were introduced by Mr. Sasaki about automotive beautifying technologies and techniques, including Japanese car coating technology – one of the emerging coating technologies. In the world. The outstanding features and advantages of this paint technology are described in detail by Mr. Sasaki, helping students of the Faculty of Automotive Technology get acquainted and have access to one of these advanced and modern painting techniques. Mr. Sasaki said that at present, car beauty and decoration technology is one of the most popular and popular industries in Japan, it is more developed than the auto repair industry, and to meet the needs of the automotive industry. Because of people's demand for "driver" beauty, Japan has produced this outstanding paint line. With peeling paint technique, users can be completely assured with their car and satisfy their personal preferences. Mr. Sasaki also hopes that this automotive paint technology will be quickly brought into Vietnam to serve car users.
Photo: Mr. Sasaki – Director of Jecto Sutoroku Motor Company
The working session took place in the excitement and enthusiasm of all the students of the Faculty of Automotive Technology, the students' questions were carefully answered by Mr. Sasaki to help them better understand the technology. car painting techniques according to Japanese technology. At the end of the meeting, the Japanese Fintech Company presented gifts and took souvenir photos with Thanh Do University. Wish Japan Fintech Company and Thanh Do University will have further development steps in the coming time.
Photo: Students enthusiastically ask questions